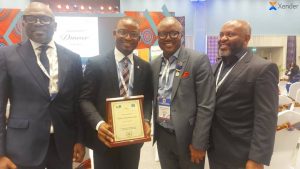 Young Insurance Professionals (YIPs) Africa
Linkage Assurance Plc is pleased to announce that its employee, Oluwaseun Oyelere, emerged the Winner of the Maiden Edition of the AIO-YIPs Africa NextGen Insurance Award during the Young Insurance Professionals (YIPs) Africa's event at the 2022 African Insurance Organization (AIO) conference held in Nairobi, Kenya.
The Young Insurance Professionals (YIPs) Africa is a body with the mission to create a network of Young Insurance Professionals coming together for the purpose of exchanging information and ideas, thereby increasing insurance penetration rate in Africa. Its aims include to demonstrate that insurance can be rewarding and a stimulating lifetime career, to promote the attraction and retention of new talents in the insurance industry, to ensure that they share the passion for the continued growth and prosperity on the African Insurance market and to increase Insurance penetration.
We congratulate all the Top 5 Finalists – Oluwaseun Oyelere (Linkage Assurance Plc), Sheila Wristberg (IRisk Management Limited), Lawrence Kenduiywa (Agritask), Esther Esime (Ghana Reinsurance Plc) and Hermann N'ZI (Optimus Insurance Brokers).
We also appreciate the sponsors and organizers of the event YIPs Africa, AIO, the sponsors and panel of judges for a successful event.